Padmavat – A History within History!
I hope the Blog-post title itself is convincing enough to understand why Padmavat is worth a blog post rather than just a Movie-Theatre check-in on Facebook.
Yes! I finally watched the movie that has a caliber to create waves into the Indian Political picture, to cost people's lives and the movie that made history in itself for being the most controversial movie of all times.
Before I burst out about the unnecessary controversy of the movie; I am going to share my review of the movie because Padmavat is definitely more than its controversy (My artist-self proclaims)!
Grandeur – An SLB Niche
Talking about Big? There! Its a Sanjay Leela Bhansali movie for sure! As always Mr. Bhansali treats our eyes with the jaw dropping cinematography! The stereotype magnum opus sets, the state of art costumes, the attention to detail VFX and the mesmerising aesthetics..everything galore..So much so that you wouldn't blink in FOMO! Well, welcome to an SLB Production!
Casting/Characters
Oh! I so have fallen in more deep love with both Rajasthan and Miss. Deepika Padukone. First, I couldn't decide who is more gorgeous and second both are paramount characters of the movie.
When talking about the characters of the movie, I so precisely remember myself marvelling at how impeccably the casting is accomplished while watching the other half! I mean from the tiny little characters to Ranveer Singh, each character feels so justified by the Actors cast by Shruti Mahajan who also cast for Lipstick Under The Burkha, Bajirao Mastanj and Ki & Ka just to name a few.
Actors
Queen Padmavati, King Maharaval Ratan Singh, Sultan Allauddin Khilji, Malik Kafur and Mehrunissa! They all came alive on the screen. While Ranveer Singh is basking in all the complements for playing Khilji with such a flair; his queer interest on screen Malik Kafur played by Jim Sarbh was an utter treat to watch and observe, me being a theatre actress and him being a well known theatre artist too.
Coming back to Ranveer; he acted so well that I hated him to the core, he genuinely came across as a cruel, beast like antagonist to me!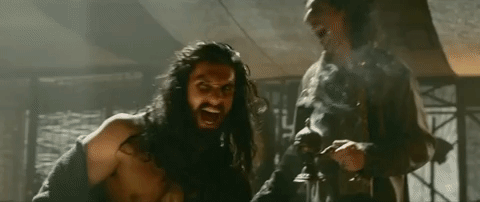 Moving onto Ms.Padukone, I am afraid that her graceful feminine aura and her ethereal beauty on screen will overpower her acting performance for the audience. She embodied the character's dignity, pride, body language, mannerisms incredibly well throughout the movie.
And now its Mr.Kapoor's turn. I don't know why but Shahid always get way less recognition as a fine actor than he actually should! I can't help but feel very bad for him when people compare his performance to Ranveer's in the movie. Oh! Come on peeps, they both are Two worlds apart characters. Of course Ranveer's character has more scalability and interest to it! And he definitely has done justice to the character with the highest intensity. But hey, Shahid too played the King Ratan Singh extremely skill fully. His character doesn't allow him to go to that level of intensity as Khilji's character but Shahid undoubtedly reciprocated the sombreness, nobleness and chivalry of a proud, responsible king!
And now the surprise package: James Sarbh and Aditi Rao Haidiri! Sarbh is this quirky personal attendant to Khilji who brings in the queer undertone to the movie. I guess I wouldn't be exaggerating if I say that Malik Kafur is the best queer character played by Sarbh in the best way ever in the history of Bollywood. Next, Ms. Haidiri too played her helpless character with integrity. Her role was small indeed but she stood out well. In fact, all the small characters are played beautifully on screen by the actors.
Music & Choreography
Mr.Bhansali's almost all movies have equally grand music as its other aspects but I believe this time he was already fighting at many fronts, (coming to it later ☺️) so he couldn't spare much time on music I guess. And yet, he has beautifully interwoven the Rajasthani and Islamic essence into the songs. But I still feel some void in comparison to Bajirao Mastani and Ramleela. These movies remind me to go ga ga more over Deepika since she learnt a new dance form for every single movie. Be it Laavni and Oriental dance for Bajirao or Garba from Gujarat for Ram Leela and now Rajasthani folk Ghoomar for Padmavat; she has made the songs and choreography more popular and aesthetically pleasing.
So, overall Padmavat would be successful to captivate you for 2.5 hours. But, somehow it lost its grip couple of times for me. But after a little brooding over why I feel this way, I came across the one and only possible drawback for the movie! And that is its over the top unwanted publicity. Let me explain the context of this statement. Since the day the news came out that SLB, Deepika, Ranveer and Shahid are shooting a new periodical movie about Queen Padmavati, it has been all over the place! People started to create videos about the story of real Queen Padmavati and share it on Social media. ( I too watched one of those vids- Guilty 🙈) So, everyone already knew the storyline so the movie became very predictable and less captivating for me. Well, I am not sure about the others. On the other hand, I also believe that the 'other' publicity (in context to) the Rajput clan aka Karni Sena will help the movie to do the business on the contrary. People would at least go watch the movie out of curiosity- 'What is the fuss about?'
The Grand Controversy
Now coming onto what the fuss is about! NOTHING! Yes, there is nothing in the movie that should offend the Rajputs! Yes, I agree that Mr.Bhansali holds an image for tampering with historical facts in the name of 'Artistic Liberty' but honestly this movie sticks to the Epic Poem by Poet Malik Mohhamad Jayasi (as mentioned in the disclaimer of the movie) I am not sure if this genuineness came after the clearance by the censor-board or not but yes, this time SLB dis not depicted even a single artistic smooch between the 'wedded couple' of the movie.
We Indians get extremely offended if our history is being tampered with. Don't we? Well, we should get offended when we have 4500 Years old rich cultural history as a country. And when India is considered
"Sa Prathama Sanskrati Vishvavara"
.
Getting back to 'getting offended' by a movie; I believe 'wrong' dogs are barking at the wrong tree in this case! After watching the movie I perceive that if anyone should get offended then its another particular mass; not the Rajputs for sure. (Keep guessing till you watch Padmavat 😝)
Everything is good in moderation. Be it clinging to the history or taking artistic liberty. But this time the Rajputs definitely went overboard with their obsession for their 'so called' dignity and pride. Killing innocent people for a movie? Slapping a dignitary Director? Announcing bounties on Actors? Calling names, shaming and humiliating a fine (real & living) woman like Deepika over a movie about a Woman about whom its unknown if she was a myth or factual history? You should be ashamed of being Rajputs. But it doesn't startle me at all when I saw the statistics about rate of assault on women in the regions of India. And no extra points for guessing,
Rajasthan
ranks at number 26 making it one of the
Worst State for Women
in India.
Traditions, customs, rites and rituals are great until they treat another human being less humanely. No one gave you the right to suffocate a woman of non-equal rights or of the 'supposed' duties. If you still believe in those non-respectful and degrading traditions then all I can do is to recite one of the teachings of the most practical and the coolest dude ever, Lord Krishna (my personal fave). Even he says, "Change is inevitable." And that traditions and customs are meant to be changed time to time. Anyways, I get it. Rajasthan has a lower literacy ratio but every single one of you is a fearful devotee of God. Wouldn't you follow him?
As if it wasn't enough Actress Swara Bhaskar writes an
Open Letter
to Mr. Bhansali where she accuses him to glorify 'Jauhar' – Mass Self-immolation committed by women in the movie.
What were you thinking Swara? Desperate measures for some free publicity? Being an actress herself how could someone not understand that it is a bloody movie! Its meant to entertain. It doesn't promote an archaic custom of self-immolation. It 'supposedly' happened. If not in factual history then at least in the poem that the movie is inspired by.
I feel pity for SLB! When he tampers with the historic facts then it's a problem, when he sticks to history even then it's a problem! Too intolerant people nowadays! Arrrgh 😤 I mean hello? Swara or the Rajputs, and every single one of us, there is something called 'Disclaimer' at the beginning of the movie and which clearly states 👇
So please, its my utter appeal to all of you! Padmavat is a visual treat! Treat it as a movie not like a rape or physical abuse on a woman or as cast reservation system! At the end of the day Catharsis is the ultimate purpose of any type of Arts which Padmavat splendidly fulfills.
Much Love,
Sonal
Pictures Source: hindustantimes.com